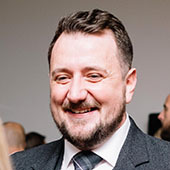 David Beveridge
Head of Operations and Sales
Why Account Management is so important when choosing an ATS provider
Having supplied some of the world's biggest brands with our Applicant Tracking System (ATS), we have over the years seen just how important account management can be, having a huge impact on the way in which businesses use and gain from the systems we create. Whilst huge advocates of the immense possibilities technology can offer, in our opinion, good old-fashioned human customer service will always reign supreme. Below are just a few reasons why account management is so important when choosing an ATS provider.
Get the most from your investment
Too often do we see people invest in software then never speak to their vendor again, not engaging with their suppliers to ensure they are getting the most out of their investment. By having regular touchpoints with your supplier, you can ensure you and your ATS provider are always aligned, both on the same page with regards to your recruitment needs. From tweaking your package in line with your requirements, to providing ongoing training and details of updates, maintaining a supplier-client relationship boasts many benefits.
Extend your team outside of the office
Whilst the saying may go 'too many cooks spoil the broth', when it comes to building a high-performing recruitment process, this couldn't be more incorrect. Here at Peoplebank, our team work as an extension of our clients', always on hand to offer support and advice on how to make the most of their software packages. From delivering presentations on new functionalities, to holding online training seminars for the whole team to learn from; we are just as passionate about your business as you are.
Make use of your ATS' benefits
Here at Peoplebank, we deliver a comprehensive and powerful recruitment solution designed to reduce administration demands and ensure the best practice for your business. Whilst we are happy to promote the benefits of our systems, we are only truly fulfilled when seeing our clients reap the rewards. This is one of the main objectives of our account managers, booking in regular calls with clients to see how our solutions can help take the pressure off your team. Focused on the end goal, we are always at hand to steer you in the right direction and ensure you are reaping the benefits of our systems.
Our Account Managers
When becoming a Peoplebank client, we will appoint an account manager to you. This individual will help you with both the transition process and aid you with any issues you may have. As huge advocates of what we do, our account managers are passionate about your processes; going to great lengths to educate you on what your system can do for you. This is partly achieved through on-site training; a free service whereby your account manager will talk you through the dashboard as well as the front end.
In addition, they will also offer helpful manuals, videos, and live chat support; all designed to get you using Peoplebank's software and make a positive difference to your recruitment process.
Want to learn more?
If you are eager to find out more about our ATS, contact us today. Working with businesses of all shapes, sizes and recruitment needs; we will be sure to help.